barbecue in
Downtown STL
Missouri
bbq in the heart of downtown stl
Our downtown St. Louis location brings barbecue to hungry tourists, office workers, conference-goers, and folks checking out the National Blues Museum. In fact, the same genius architects who designed the museum on Washington Avenue also helped us create a museum of meat right next door. (Thanks, V Three Studios!) Our location is feast for the eyes and the taste buds.

Wanna rep us to your friends? Check out our apparel page for shirts, hats, and anything else we can stick a logo on.
Order Gift Cards from Downtown STL
Chef

Josh Barton

Proprietor

Mike Johnson & Carolyn Downs
BBQ Our Own Style:
Slow & Low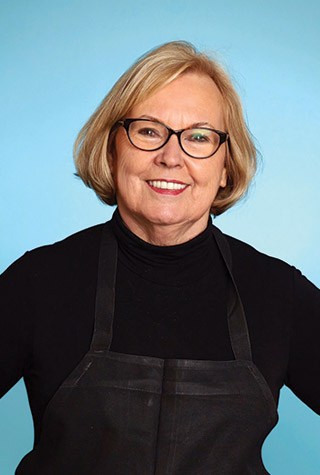 Carolyn
Pastry Chef / Owner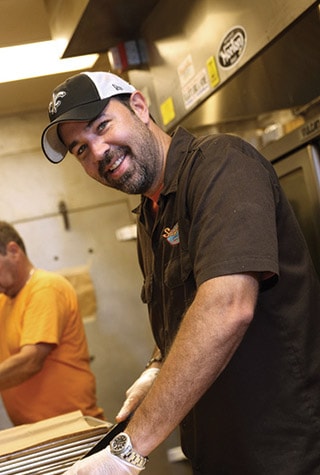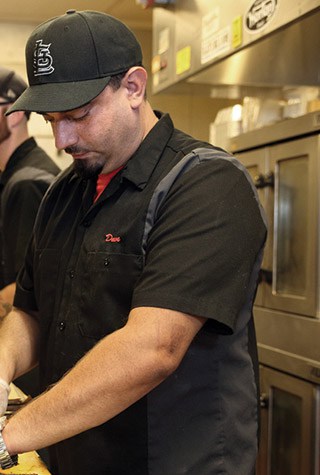 On Washington Avenue, there are flames everywhere. Not just in the smoker.
From the glass fire mosaics that climb up the columns to the huge neon sign that casts a red glow over carnivores tearing into succulent piles of meat. There's nothing that goes better with blues than barbecue. We like to think our smoker adds an extra level of sensory delight for museum-goers as they check out St. Louis' musical history. All that learning can get you hungry, so we welcome museum patrons to taste notes of sweet, hot, and savory from the seven sauces we provide on every single table. You'll need a ton of meat to soak up that sauce. We recommend the Meat Daddy, a smorgasbord of our finest offerings: ribs, brisket, pulled pork, smoked turkey, and our housemade jalapeno cheddar sausage, along with two sides. Or, if you're feeling adventurous, try out one of our daily changing specials and sides. We push the limits of barbecue. If it can be smoked, we'll smoke it, and our flavor combinations are second to none.
In this location, we've taken inspiration from the blues greats featured next door. While you chow down on some seriously good barbecue, the gods of blues music are pictured in our murals, smiling down on you and enjoying some meat treats themselves. The music is always cranking, and you'll probably feel like singing after a few of our boozy milkshakes and some pecan, apple, or key lime pie.
In between your visits to our downtown hub, you might need our meat on the go. We've got you covered. Our base on Washington Avenue has dine-in, carry-out, and delivery options. If you've got a crowd to feed (or you're just feeling really, really hungry) Sugarfire can cater your off-site event. See our catering page for more information, and give us a call to set something up.
Local Friends
Our Partners