barbecue in
St. Charles
Missouri
Now Taking Holiday Pick-Up Orders!
Sugarfire St. Chuck is the second child in the Sugarfire family. After the original Olivette location opened in 2012, Sugarfire St. Charles followed in its footsteps in 2013 to give folks out west access to Mike's meats and Carolyn's sweets. Built in an old Chuck-a-Burger, this location features floor to ceiling windows so jealous onlookers can watch with envy as patrons tear into the best pulled pork, ribs, and brisket around.

Wanna rep us to your friends? Check out our apparel page for shirts, hats, and anything else we can stick a logo on.
Order Gift Cards from St. Charles
Chef

Bryan Smith

Proprietor

Mike Johnson, Carolyn Downs, & Dave Molina
You're in Luck,
There's 'Cue in St. Chuck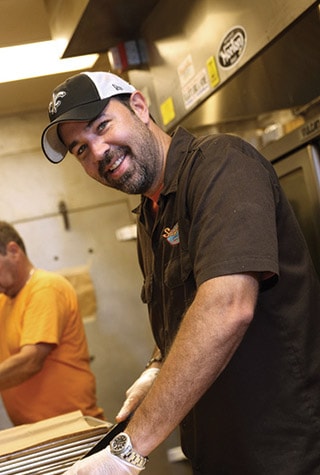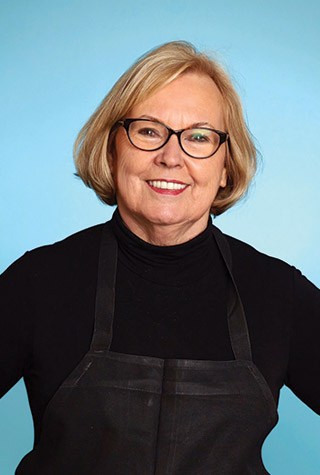 Carolyn
Pastry Chef / Owner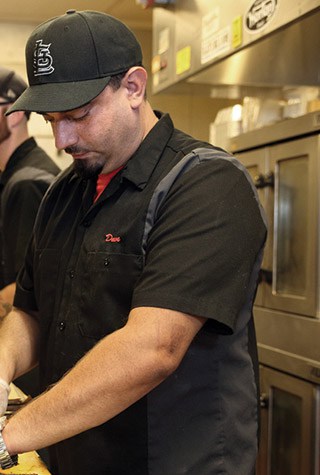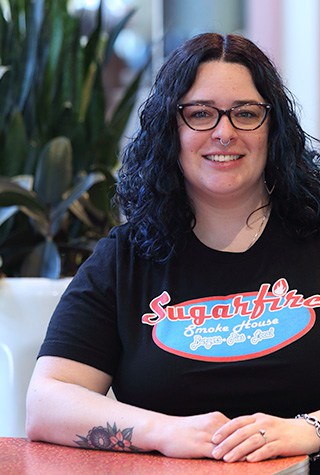 At night, red neon racing stripes light up the top of the building. Inside, there's a mix of retro tables and chairs, with bottles of seven different housemade sauces on each table.
We've got everything: sweet, hot, mustard-based, even a white horseradish sauce for the curious. You'll need some meat to soak up all those sauces, so we offer all the BBQ classics with a few of our specialties. Check out our Meat Daddy to try them all: ribs, pulled pork, brisket, smoked turkey, and our housemade jalapeno cheddar sausage. If you want to try something off the beaten path, people sing the praises of our smoked salmon and portobello mushroom. Need something between two pieces of bread? Our Big Muddy Sandwich combines smoked sausage and brisket with BBQ sauce and some horseradish for a kick you won't forget. Our burger rivals the one at our sister restaurant, Hi-Pointe Drive in. It's worth a try to see which one will get your undying devotion.
In between your visits to the St. Chuck location, you might need our meat on the go. We've got you covered. You can dine-in, carry-out at our St. Chuck location, or even have it delivered right to you. For a party, game, or any other event Sugarfire can cater off-site for small, medium, and large events. We cater off-site at over 30 different locations. See our catering page for more information, and give us a call to set something up.
Local Friends
Our Partners